24.0 K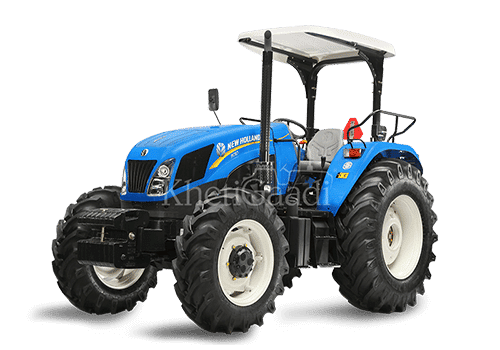 4WD
HP Category
: 90 HP
Price
:

16 Lakh - 18 Lakh
New Holland EXCEL 9010 4WD Tractor has the comfort and convenience features to keep you smiling even during the longest days
New Holland EXCEL 9010 4WD Features, and Specifications
New Holland Excel 9010 is a 4-wheel drive tractor. This tractor is also suitable for working for commercial and agricultural purposes. This tractor performs excellently on the road and even in rough and tough types of land. It works smoothly and effectively.
The New Holland Excel 9010 tractor model is cost-effective due to its advanced features. This tractor also works strongly to handle implements like cultivators, rotavators, planters, etc. To know more about the tractor price contact khetigaadi executives.
New Holland EXCEL 9010 4WD Features
It has 12 Forward and 12 Reverse gears.
New Holland tractor Excel 9010 has an intercooler cooling system.
It has a rotary-type fuel tank.
It has a dry-type air filter feature.
This tractor is cost-effective.
New Holland EXCEL 9010 4WD Specifications
| | |
| --- | --- |
| HP Category | 90 HP |
| Engine Capacity | 3680 CC |
| Engine Rated RPM | 2200 RPM |
| No of Cylinder | 4 Cylinders |
| Brake Type | Mechanically Actuated Oil Immersed Multi Disc Brake |
| Steering Type | Power steering |
| PTO Power | 76.5 PTO HP |
| PTO RPM | 540 |
User Reviews of New Holland EXCEL 9010 4WD Tractor
This is Best Tractor in India
" This is Best Tractor in India "
By NIKHIL MAHAMUNI
30 November -0001
Disclaimer
This product information is generic in nature and based on information provided by company or on its website. Please contact company or dealer for up-to-date information. Please report any error at connect@khetigaadi.com.