59.2 K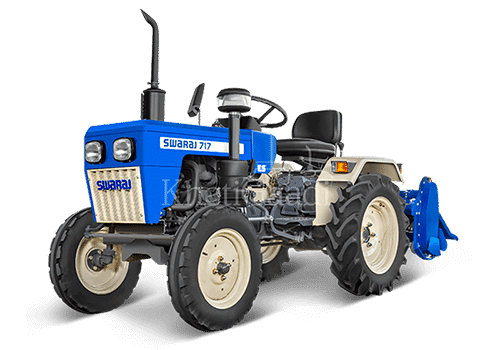 2WD
HP Category
: 15 HP
No. of cylinder
: 1 Cylinder
Price
:

3.1 Lakh - 3.75 Lakh
Swaraj 717 Tractor has the comfort and convenience features to keep you smiling even during the longest days
Information About Swaraj 717
Swaraj 717 is a tractor with a 15 HP engine and MAX PTO of 12 HP, It consists of 1 cylinder with 2300 engine-rated RPM with a height of 840 mm fully constant gearbox. It is available with 2 WD. The cooling is perfect with a water-cooled system. This tractor has a 3-stage oil bath air filter. The height of an engine is 840 mm.
Swaraj 717 consists of 6 forward and 3 reverse gears. The power take-off of the engine is 540 revolutionary per minute (RPM). It has a 780 kg hydraulic lifting capacity. The total weight consists of 850 kg.
Swaraj 717 has 260 mm ground clearance. This tractor comes with a low budget and is affordable for farmers. The tractor price of Swaraj 717 starts from 3.01 Lac. To know more about Swaraj 717 contact Khetigaadi executives.
Swaraj 717 Features
Swaraj 717 is a 15 HP tractor.
Swaraj Tractor 717 provided with 1 cylinder.
It comes with dry disc brakes.
The ground clearance is 260 mm.
Swaraj 717 Specifications
Tractor Specifications

HP Category

15 HP

Engine Capacity

NA

Engine Rated RPM

2300

No of Cylinder

1 cylinder

Brake Type

Dry Disc Brakes

Steering Type

Mechanical

PTO Power

12 PTO HP

PTO RPM

540 RPM
User Reviews of Swaraj 717 Tractor
Hii t
" G tu "
By Nosid Ali
19 February 2022
Sawraj
" Rod price "
By Aaditya Naresh bhai
26 February 2022
एवरेज बहुत है
" "
By MANSING Patil
19 March 2022
Swaraj717
" Price?? "
By Umeshbhai Patel
19 August 2023
Disclaimer
This product information is generic in nature and based on information provided by company or on its website. Please contact company or dealer for up-to-date information. Please report any error at connect@khetigaadi.com.