14.7 K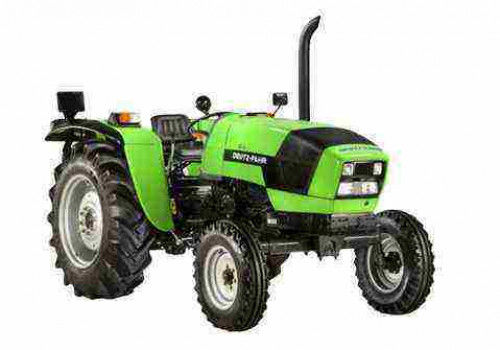 2WD
HP Category
: 60 HP
Displacement CC in
: 3000 CC
No. of cylinder
: 3 Cylinder
Price
:

9.8 Lakh - 10.55 Lakh
Same Deutz Fahr Agrolux60 Tractor has the comfort and convenience features to keep you smiling even during the longest days
60 HP

2WD

3000 CC

3 Cylinder
Same Deutz Fahr Agrolux 60 is the most popular tractor. This tractor is suitable to perform in eac kind of field whether used for commercial and agriculture purposes. It comes in a 2 wheel drive option. The highest in mileage and performance-wise the tractor attracts the farmers to purchase the tractor.
 Same Deutz Fahr Agrolux 60 2WD comes in specific features like oil immersed disc brake, power steering feature, superb in speed, fully constant mesh gearbox, highest fuel efficiency. This tractor is also provided with some accessories like TopLink, tools, canopy, etc. To know about the Tractor Price contact Khetigaadi executives.
 Same Deutz Fahr Agrolux 60 2WD Features
It has 8 forward and 2 reverse gears.
This tractor can load
It carries 70 liters of fuel tank capacity.
It can load 2100 Kg of lifting capacity.
Same Deutz Fahr Agrolux 60 2WD Specifications
| | |
| --- | --- |
| HP Category | 60 HP |
| Engine Capacity | 3000 CC |
| Engine Rated RPM | 2200 RPM |
| No of Cylinder | 3 Cylinders  |
| Brake Type | Multidisc Oil Immersed Brakes |
| Steering Type | Power steering |
| PTO Power | 51 PTO HP |
| PTO RPM | 540  |
User Reviews of Same Deutz Fahr Agrolux60 Tractor
This is Best Tractor in India
" This is Best Tractor in India "
By NIKHIL MAHAMUNI
30 November -0001
बस नाम ही काफी है
" iska look achha hai. Iski seat aramdayi hai.... "
By MANSING Patil
21 March 2022
Disclaimer
This product information is generic in nature and based on information provided by company or on its website. Please contact company or dealer for up-to-date information. Please report any error at connect@khetigaadi.com.