24.2 K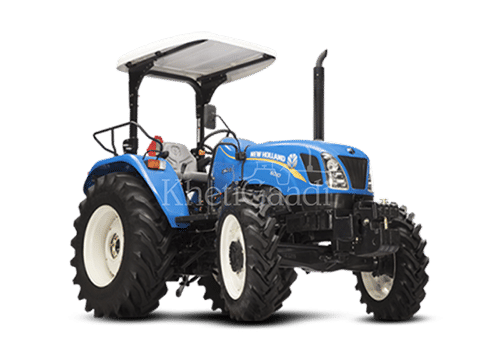 4WD
HP Category
: 60 HP
No. of cylinder
: 3 Cylinder
Gear Box Type
: 12 Forward + 12 Reverse
Price
:

11.2 Lakh - 12.9 Lakh
New Holland 6010 4WD Tractor has the comfort and convenience features to keep you smiling even during the longest days
60 HP

4WD

3 Cylinder

12 Forward + 12 Reverse
About New Holland 6010 4WD Price, Features, and Reviews
New Holland 6010 is a 4-wheel drive tractor. This tractor is a highly efficient, relevant, and versatile tractor. The tractor is provided with specific features.
Also, New Holland 6010 tractor is economical in price. It is provided with accessories like a canopy, ballast, skywatch, etc. It is easy to operate and can work with longer durability on agricultural fields and is also beneficial for multipurpose and commercial usage. To know more about the tractor price contact khetigaadi executives.
New Holland 6010 4WD Features
New Holland tractors have 12 forward and 12 reverse gears.
It can load up to 2500 Kg of lifting capacity.
This tractor carries 60 liters of fuel tank capacity.
It can work for longer hours.
New Holland 6010 4WD Specifications
| | |
| --- | --- |
| HP Category | 60 HP |
| Engine Capacity | NA CC |
| Engine Rated RPM | 2200 RPM |
| No of Cylinder | 3 Cylinders |
| Brake Type | Mechanically Actuated Oil Immersed Multi Disc Brake |
| Steering Type | Power steering |
| PTO Power | 51 PTO HP |
| PTO RPM | 540 |
User Reviews of New Holland 6010 4WD Tractor
This is Best Tractor in India
" This is Best Tractor in India "
By NIKHIL MAHAMUNI
30 November -0001
Disclaimer
This product information is generic in nature and based on information provided by company or on its website. Please contact company or dealer for up-to-date information. Please report any error at connect@khetigaadi.com.