24.1 K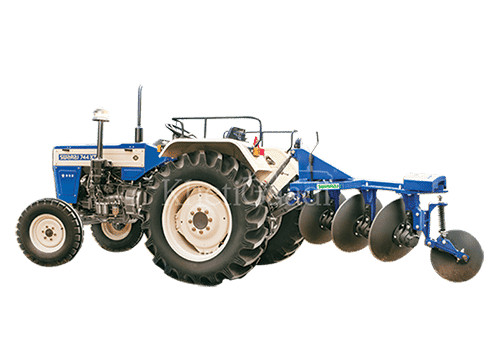 2WD
HP Category
: 50 HP
Displacement CC in
: 3478 CC
Gear Box Type
: 8 Forward + 2 Reverse
Max PTO (HP)
: 44 HP
Price
:

7.37 Lakh - 7.72 Lakh
Swaraj 744 XT Tractor has the comfort and convenience features to keep you smiling even during the longest days
50 HP

2WD

3478 CC

8 Forward + 2 Reverse

44 HP
Swaraj 744 XT 2WD Price, Features, and Specifications
Swaraj 744 XT is a 2-wheel drive tractor that is used for working in various farmland activities. It is good mileage. This tractor is known for better performance and better traction conversion activity. These tractors are mostly preferred by farmers for greater productivity and enhance its better performance activity.
Swaraj 744 XT is good in the front tyre, it comes with a sealed front axle for better turnings. This 2-wheel drive tractor is suitable to perform carious farmland activity and is also provided with 2 years of warranty.
Swaraj 744 XT comes in a constant mesh and sliding mesh transmission feature. It is preferred by the farmers for longer hours of operation. It is known for carrying heavy implements like rotavators, cultivators, planters, disc ploughs etc. To know more about the tractor price contact khetigaadi executives.
Swaraj 744 XT 2WD Features
Swaraj tractor 744 XT 2WD has 8 forward and 2 reverse gears.
It can load 1700 Kg of lifting capacity.
This tractor works smoothly on the roads.
It is good in quality.
This tractor requires less maintenance.
Swaraj 744 XT 2WD Specifications
| | |
| --- | --- |
| HP Category | 50 HP |
| Engine Capacity | 3478 CC |
| Engine Rated RPM | 2000 RPM |
| No of Cylinder | 3 |
| Brake Type | Oil Immersed Brake |
| Steering Type | Power Steering |
| PTO Power | 44 HP |
| PTO RPM | 540 |
FAQ About Swaraj 744 XT
User Reviews of Swaraj 744 XT Tractor
It is good performanes.
" millage of tractor is best "
By Sagar Patil
28 March 2022
This is Best Tractor in India
" This is Best Tractor in India "
By NIKHIL MAHAMUNI
30 November -0001
Disclaimer
This product information is generic in nature and based on information provided by company or on its website. Please contact company or dealer for up-to-date information. Please report any error at connect@khetigaadi.com.