17.8 K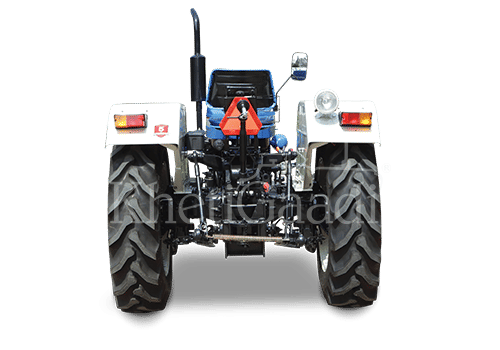 2WD
HP Category
: 34 HP
No. of cylinder
: 3 Cylinder
Gear Box Type
: 8 Forward + 2 Reverse
Price
:

5.35 Lakh - 5.55 Lakh
Powertrac 434 DS Tractor has the comfort and convenience features to keep you smiling even during the longest days
34 HP

2WD

3 Cylinder

8 Forward + 2 Reverse
Powertrac developed the special tractor for some unique works with the name Powertrac 434 DS. Powertrac 434 DS is specially designed for harvesting. You can use this tractor for routine work also. This tractor comes with the 3 powerful cylinders. The brand uses the latest technologies while producing this model. This tractor will create a history in the agriculture industry.
This 34 HP tractor can work at 2200 RPM. Powertrac 434 DS is a lightweight tractor. It comes with a standard engine. The Powertrac 434 DS tractor has an 8 + 2 Collar Reverser. it can run up to 29..4 km/hr in the forward direction and with 10.3 km/hr speed in the reverse direction also.
The Powertrac 434 DS tractor price is 5.35 lakh to 5.55 lakh. For more information about the tractor, contact KhetiGaadi executives.
Powertrac 434 DS Features

This is 3 cylinder tractor
The tractor is available with 34HP
Can produce up to 29.8 HP PTO
Can easily lift up to 1500 kg load
Fitted with Mechanical Steering
Powertrac 4455 BT Specifications
Tractor Specifications

HP Category

34 HP

Engine Capacity

NA

Engine Rated RPM

1850 RPM

No of Cylinder

3 cylinders

Brake Type

Oil Immersed

Steering Type

Power Steering

PTO Power

29.8 HP

PTO RPM

540
User Reviews of Powertrac 434 DS Tractor
This is Best Tractor in India
" This is Best Tractor in India "
By NIKHIL MAHAMUNI
30 November -0001
best average
" "
By Sagar Patil
26 March 2022
Disclaimer
This product information is generic in nature and based on information provided by company or on its website. Please contact company or dealer for up-to-date information. Please report any error at connect@khetigaadi.com.