59.5 K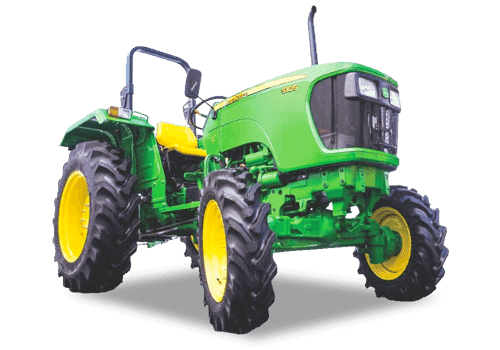 2WD
HP Category
: 40 HP
No. of cylinder
: 3 Cylinder
Gear Box Type
: 8 Forward + 4 Reverse, Collarshift
Max PTO (HP)
: 34 HP
Price
:

6.6 Lakh - 6.85 Lakh
John Deere 5105 Tractor has the comfort and convenience features to keep you smiling even during the longest days
40 HP

2WD

3 Cylinder

8 Forward + 4 Reverse, Collarshift

34 HP
John Deere 5105 Price, Specifications, and Features
If you want to buy the strongest tractor which is unbeatable from its competitor then John Deere is the best choice for you. Here we will discuss the John Deere 5105 detailed information. This tractor comes in both variants 2 wheel drive mode(2WD) and 4-wheel drive mode (4WD). This John Deere 5105 will fulfil all the farmer's needs. John Deere 5105 is the master for dry as well as wet farming land cultivation. But, if you use John Deere 5105 4wd on the wetland cultivation then you can experience the real potential of this tractor machine.
John Deere company always focuses on advanced technology therefore 5105 tractors are able to show you mind-blowing performances. Let's talk about the john deere 5105 hp, So it has a 40 HP engine which is the best for dry and wet farming land. This tractor's power steering gives you amazing drive experiences on muddy land. This 5105 is able to generate high backup torque. If we talk about the John Deere 5105 price then this John Deere 5105 tractor price starts from 6.6 Lac. To know more about the on-road price for John Deere 5105 contact the khetigaadi executive.
John Deere 5105 Features
It has dual-clutch
will provide a Deluxe seat with seat belt security.
the company provides under-hood exhaust mufflers
It has a front and rear oil axle with a metal face seal.
5105 has a long life with fewer maintenance costs.
Can generate extreme torque.
John Deere 5105 Specifications
Tractor Specifications
HP Category
40 HP
Engine Capacity
2900 cc
Engine Rated RPM
2100 RPM
No of Cylinder
3 Cylinder
Brake Type
Oil Immersed
Steering Type
Power Steering
PTO Power
34 HP
PTO RPM
540
FAQ About John Deere 5105
Question: From where John Deere Tractor 5105 photo can be seen before purchasing?
Answer: Before purchasing the tractor John Deere Tractor 5105 photo is available on the official website of the John Deere company as well as KhetiGaadi will also provide the right image of the model on the request of the image.
Question: What is the price of a John Deere 5105 2WD in India in 2023?
Answer: The price of a John Deere 5105 2WD in India in 2023 starts from Rs 6.6 Lac and goes up to Rs 6.85 Lac.
People Also Search For the John Deere 5105 price,5105 John Deere, John Deere tractor 5105 price, and John Deere tractor 5105.
User Reviews of John Deere 5105 Tractor
John Deere 5105
" John Deere tractor 5105 "
By E h ramalingannanavar Ramalingannanavar
27 January 2022
40 hp
" Gegshjdd "
By Siddu c m
12 February 2022
John deere 5105
" Good tractor "
By Yugant Meshram
19 February 2022
This is Best Tractor in India
" This is Best Tractor in India "
By NIKHIL MAHAMUNI
30 November -0001
Disclaimer
This product information is generic in nature and based on information provided by company or on its website. Please contact company or dealer for up-to-date information. Please report any error at connect@khetigaadi.com.