82.3 K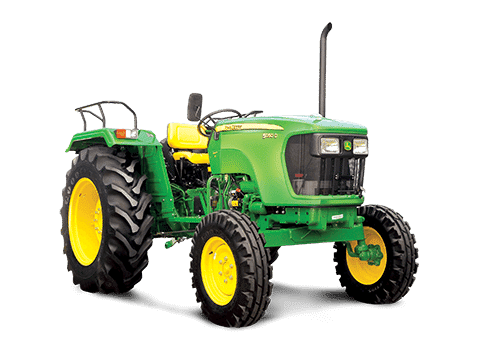 2WD
HP Category
: 50 HP
No. of cylinder
: 3 Cylinder
Gear Box Type
: 8 Forward + 4 Reverse Collarshift
Max PTO (HP)
: 42.5 HP
Price
:

7.85 Lakh - 9.1 Lakh
John Deere 5050D Tractor has the comfort and convenience features to keep you smiling even during the longest days
50 HP

2WD

3 Cylinder

8 Forward + 4 Reverse Collarshift

42.5 HP
John Deere 5050D Price, Specifications, and Features
John Deere Brand is always focused on new technology. Here we are introducing the amazing tractor 5050D. This 5050D tractor is the most used tractor by farmers. There is no competitor in the market that matches the John Deere 5050 D performance & productivity. 5050 D is available in both variants 2WD and 4WD. John Deere made this 5050 D by keeping in mind tractor-related heavy-duty work.
This tractor comes with power steering. 5050D is connected with John Deere's JDLINK application. In comparison with all the D series A John Deere tractor, this 5050 D tractor produces 8 to 10% more torque than any other tractor. with these HY-Tech functionalities, this tractor is available at an affordable price range. Also, 5050D requires a low maintenance cost too.
John Deere's 5050D tractor price starts from 7.85 Lac. If you are interested to know John Deere 5050D on-road price then contact khetigaadi.com
John Deere 5050D Tractor Features
Able to generate high torque
Comes with the power steering
Connected with JDLINK application for analyzing tractor's health
HY-Tech functionalities used.
Best D series model at an affordable price
John Deere 5050D Tractor Specifications.
Tractor Specifications
HP Category
50 HP
Engine Capacity
2900 cc
Engine Rated RPM
2100 RPM
No of Cylinder
3 Cylinder
Brake Type
Oil Immersed
Steering Type
Mechanical / Power Steering
PTO Power
43 HP
PTO RPM
540
FAQ About John Deere 5050D
Question: How much horsepower does a John Deere 5050 have?
Answer: 5050D John Deere Hp is 50.
Question: How much does the John Deere 5050 have PTO HP?
Answer: John Deere Tractor 5050 has 42.5 PTO HP.
Question: How many cylinders are there in the John Deere 5050?
Answer: John Deere 5050 has 3 cylinders.
Question: What does a John Deere 5050 weight?
Answer: John Deere 5050 weight is 1975 Kg.
People Also Search for John deere 5050 d price, John deere 5050, John deere tractor 50 hp price, John deere 5050d price in India 2023, John deere 5050 on road price, John deere 5050 hp.
User Reviews of John Deere 5050D Tractor
5050
" Hello "
By Yogesh Gurjar Gurjar
07 February 2022
Bhakhar
" no 06 "
By Jayant Bhakhar
07 October 2022
no 06
" Jayant chaudhary "
By Jayant Bhakhar
07 October 2022
लई भारी ट्रॅक्टर
" "
By MANSING Patil
18 March 2022
Disclaimer
This product information is generic in nature and based on information provided by company or on its website. Please contact company or dealer for up-to-date information. Please report any error at connect@khetigaadi.com.