54.2 K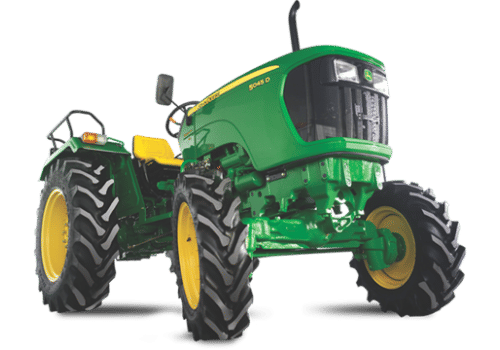 4WD
HP Category
: 46 HP
No. of cylinder
: 3 Cylinder
Gear Box Type
: 8 Forward + 4 Reverse Collarshift
Max PTO (HP)
: 38.2 HP
Price
:

8.1 Lakh - 8.55 Lakh
John Deere 5045D-PowerPro 4WD Tractor has the comfort and convenience features to keep you smiling even during the longest days
46 HP

4WD

3 Cylinder

8 Forward + 4 Reverse Collarshift

38.2 HP
John Deere 5045D PowerPro 4WD Price, Features, and Reviews
If you are looking for a modern and technologically advanced 4WD tractor then John Deere will fulfill your wish. The company launched a new tractor in the D series with the name John Deere 5045D PowerPro 4WD. This amazing tractor will change the definition of the farming tractor in the modern era. This 5045D PowerPro 4WD will give you maximum torque and be able to produce high acceleration for agricultural operations.
Tractor 5045D PowerPro comes with power steering and oil Immersed disk break. These features will make you more comfortable while driving Tractor 5045D 4WD. John Deere 5045 D is able to give you non-stop PTO operations which will reduce your working time. This 4WD (4-wheel drive) tractor is best for the farmer.
5045 D 4WD has a selective control valve which enhances the tractor's overall performance. This John Deere 5045 4WD Powerpro tractor price starts at the 8.1 Lac price. If you are interested to know about the on-road price of John Deere 5045 D Powerpro 4WD then contact khetigaadi.com
John Deere 5045D PowerPro 4WD features
The John Deere Tractor 5045D PowerPro 4WD comes with power steering wheels.
fitted the best oil-immersed disk break.
The planetary gear reduction system
For performance improvement, 5045D PowerPro 4WD has a selective control valve
The tractor comes with a dual-clutch system and 4WD drive mode
John Deere 5045D PowerPro 4WD Specifications
Tractor Specifications
HP Category
46 HP
Engine Capacity
NA
Engine Rated RPM
2100 RPM
No of Cylinder
3 Cylinder
Brake Type
Oil Immersed Disc Brakes
Steering Type
Power Steering
PTO Power
36.8 HP
PTO RPM

540
FAQ About John Deere 5045D PowerPro 4WD
Question: What is the John Deere 5045 price in India?
Answer: The price of the John Deere 5045D-PowerPro 4WD is Rs 8.1 lakh.
Question: Which type of steering is available on the John Deere 5045?
Answer: Power steering is available in the John Deere 5045D-PowerPro 4WD.
People Also Search For the John Deere Tractor 46 hp price, John Deere 5045 price, John Deere 5045d power pro price,
User Reviews of John Deere 5045D-PowerPro 4WD Tractor
John Deere
" Tractor "
By Chagamreddy Pavankumarreddy
25 January 2022
Attractive Look
" most efficient tractor "
By Priya sharma 7788877767
23 March 2022
Yes
" Yes "
By Nanda Kumar Kumar
02 September 2023
This is Best Tractor in India
" This is Best Tractor in India "
By NIKHIL MAHAMUNI
30 November -0001
Disclaimer
This product information is generic in nature and based on information provided by company or on its website. Please contact company or dealer for up-to-date information. Please report any error at connect@khetigaadi.com.