21.1 K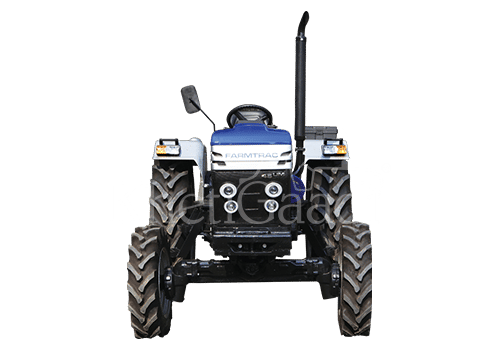 4WD
HP Category
: 47 HP
Displacement CC in
: 2000 CC
No. of cylinder
: 3 Cylinder
Gear Box Type
: 8F+8R with Fwd/Rev Synchro Shuttle
Price
:

8.8 Lakh - 9.1 Lakh
Farmtrac 45 Ultramaxx Tractor has the comfort and convenience features to keep you smiling even during the longest days
47 HP

4WD

2000 CC

3 Cylinder

8F+8R with Fwd/Rev Synchro Shuttle
This tractor model will blow your mind. This Farmtrac 45 Ultramaxx is a 47 HP tractor. Available in 3-cylinder engines and able to generate up to 40 HP while working. Farmtrac 45 has diesel saver technology which helps farmers save maximum fuel. This 45 Ultramaxx has an 8+8 gearbox, which is very convenient to use. This is able to generate 1840 RPM with a single-engine 540 PTO.
You will get advanced hydraulics and automatic draft control, which will improve productivity. Also, the tractor provides you with a hydraulic control valve. Like all these range tractors, you will also get the 60 Liter fuel tank. Ground clearance is much more than the average tractor. The Farmtrac 45 Ultramaxx has a separate oil chamber that is used for the power steering.
To know more about the Farmtrac 45 Ultramaxx tractor price of 8.8 Lakh to 9.1 lakh, contact Khetigaadi executives
Farmtrac 45 Ultramaxx Features
Maximum fuel efficiency than its competitor
This is a 47 HP Tractor
Able to lift up to 1600 Kg load
Fitted with the 8 forward and 8 backward gearbox.
Available with Oil Immersed Brakes
worked on the 4WD model.
Farmtrac 45 Ultramaxx Specifications
Tractor Specifications
HP Category
48 HP
Engine Capacity
NA
Engine Rated RPM
1850 RPM
No of Cylinder
3 cylinders
Brake Type
Oil Immersed Brakes
Steering Type
Power Steering
PTO Power
40 HP
PTO RPM
540
User Reviews of Farmtrac 45 Ultramaxx Tractor
This is Best Tractor in India
" This is Best Tractor in India "
By NIKHIL MAHAMUNI
30 November -0001
Disclaimer
This product information is generic in nature and based on information provided by company or on its website. Please contact company or dealer for up-to-date information. Please report any error at connect@khetigaadi.com.